The bounty of fall makes enjoying fresh seasonal meals a mouthwatering prospect. From pumpkins to apples to hearty root vegetables, local produce is incredible this time of year.
But for families caring for aging parents at home, time is often in short supply.
Homemade freezer meals make it easy to nourish your senior loved ones while maximizing both time and fresh produce. Win-win-win.
In this article, we'll explore the art of crafting freeze-ahead meals specifically tailored for seniors, ensuring not only their comfort and convenience but also the delight of savoring the essence of fall on a plate.
Seasonal Fall Produce for Freezer Meals: Better Flavor, Nutrition, and Variety
Fall produce boasts an array of flavors and textures that can elevate freezer meals to a whole new level.
The vibrant hues of autumn, from the deep reds of apples to the earthy richness of butternut squash, infuse the dishes you make for your senior loved ones with a sensory delight that's hard to resist. Moreover, seasonal ingredients are often at their peak in terms of nutritional value, providing seniors with the essential vitamins and minerals they need.
Plus, the versatility of fall ingredients makes for a variety of meal options, from hearty soups and stews to sweet and savory baked dishes.
Seasonal Fall Foods are Budget-Friendly
Contrary to popular opinion, in-season produce can often be a more cost-effective choice than out-of-season options. 
The lower cost is in part because produce grown nearby uses less resources – these delicious local fruits and vegetables don't need to be shipped from thousands of miles away.
This affordability helps caregivers and family members create nutritious, freezer-friendly meals without straining the budget.
Sustainability and Community Connection Through Fall Produce Outings
Beyond the kitchen, choosing seasonal fall produce often means shopping in your local community, which offers another benefit for both you and your senior loved ones — connection.
Maintaining a sense of social connection is a crucial factor in everyone's health and well-being, particularly as we age.
Maybe you bring mom or dad on an apple-picking day with their grandchildren. Perhaps you make a habit of shopping at your local farmers market on Saturday mornings.
However you structure your seasonal produce outings, including your senior loved ones in the process is a gift of invaluable bonding time for both of you. 
Fall Produce for Freezer Meals
Seasonal produce obviously varies depending on where you live, but here is a handy starter list of the most common fall fruits, veggies, and herbs that you can use in delicious freezer meals.
Winter squash and pumpkins freeze beautifully either raw or cooked, and as an ingredient in curries, casseroles, soups, and stews.
Leafy greens like kale and spinach freeze best when they're either blanched first, or as part of any cooked meal.
Cruciferous veggies like broccoli and cauliflower should also either be blanched before freezing or included as part of a cooked meal.
Pome fruits like apples and pears freeze best when sliced first, and even then they'll thaw with a texture that makes them best suited for smoothies or baking rather than snacking on raw.
Figs may be frozen whole, but, like apples or pears, you'll likely want to use them post-freezer for baked foods or preserves.
Herbs like sage, rosemary, and thyme do freeze well on the stem, but you can also freeze in ice cubes, oil, or even butter. Of course, you can always cook them into any meal you freeze.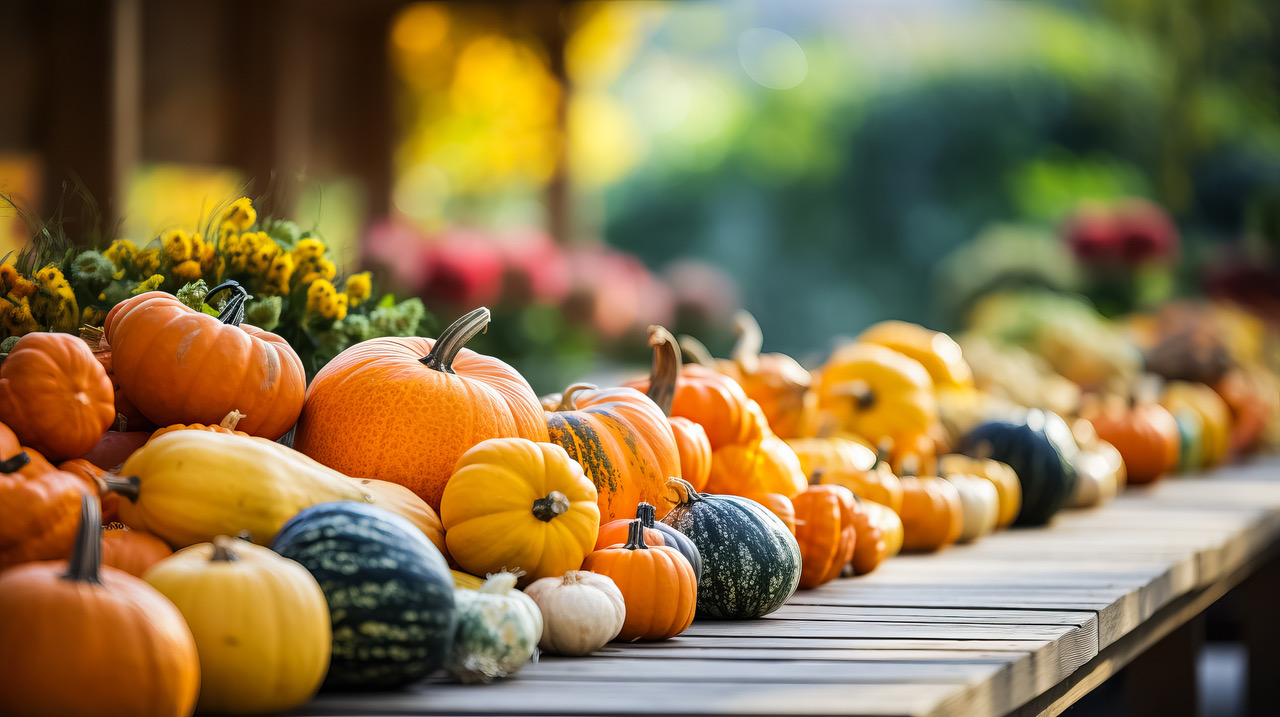 Meal Plan to Balance Flavor and Health for Seniors
Include a diverse selection of seasonal fall ingredients
From sweet and vitamin-packed pumpkins to fiber-rich root vegetables, variety not only enhances the taste but also provides seniors with the diverse range of essential vitamins and minerals they need to stay healthy and energized.
Tailor meals to their nutritional needs and dietary restrictions
Integrate your senior loved one's specific health needs as you plan these seasonal meals. For example, some seniors may require increased calcium and vitamin D for bone health, sufficient fiber for digestive health, or adequate protein for muscle maintenance. Also take into account whether they have any dietary restrictions due to medical conditions like diabetes, hypertension, or food allergies.
Include seasonal produce for hydrating meals, even in colder months
Adequate hydration is vital to keep seniors healthy and vibrant all year long. Luckily, if you're cooking for your loved ones with seasonal produce — from pumpkins to apples — you can rest assured you're caring for their hydration.
Infuse fresh fall flavor with herbs and spices
Since seniors may experience changes in taste perception, incorporate herbs, spices, and citrus to enhance the flavor of seasonal meals without relying on excessive salt or sugar.
Tips for Portioning Freezer Meals for Seniors
Freeze foods at peak freshness
The USDA recommends freezing food at peak quality for best nutrient retention. So it's better to freeze just after cooking, rather than after leftovers sit around for a few days.
Freeze rapidly in appropriate bags
Use resealable bags labeled freezer-safe for portioning. Lay bags on the counter to create a thin, flat shape (aim for up to two inches). This helps freeze foods rapidly, which helps retain quality and avoid ice crystals. Bonus: flat shapes stack most easily, which helps economize on freezer space.
Freeze in single servings for portion control
Portion control is important for seniors to prevent overeating or undereating. While it's useful to batch cook to save time, it's equally helpful to freeze meals in single-serving portions to make mealtime as easy (and healthy) as possible for your loved one.
When in doubt, measure
Consider using measuring cups or even a kitchen scale for accurate portions. This is especially important if your senior loved one needs to monitor their intake of certain nutrients, such as sodium or carbohydrates.
Thaw foods in the fridge, cold water, or microwave
For food safety, never let frozen foods thaw on the counter. Instead, the USDA recommends a slow, safe thaw in the refrigerator at least overnight.
For a quicker thaw for most frozen meals, immerse the food (still in its freezer bag) in cold water, change water every 30 minutes, and cook or serve immediately. You can also microwave just before you cook.
For baked foods or other foods you don't need to cook before eating, either leave in the fridge until thawed or microwave.
Learn more from the USDA here.
Refrigerate or freeze meals within two hours
You may leave food out on the counter to cool first for up to two hours. If the meal or snack you plan to freeze is not completely cool within two hours at room temp, refrigerate to cool completely before freezing to avoid harmful bacteria.
Frozen foods stay safe indefinitely
According to the USDA, frozen foods remain safe indefinitely. However, they may not taste delicious indefinitely! For example, frozen soups and stews stay at high quality for two-three months. See the USDA chart of freezer storage-time recommendations for various foods here.
Fall Produce Freezer Meal Ideas for Seniors
Breakfast or Snack: Healthy Apple Muffin
Muffins make fabulous fall freezer snacks. First, they're already pre-portioned. Second, your senior loved one can easily reheat in the microwave or leave in the fridge overnight to slowly thaw…then pop in the toaster oven or microwave for a deliciously warming breakfast or snack.
These Healthy Apple Muffins are made with 100% whole wheat flour and naturally sweetened.
Lunch or Dinner: Pumpkin Chili
Yum. Chili is the quintessential comfort food for fall. It's warm, it's hearty, and it freezes exceptionally well. This Pumpkin Chili is packed with fall flavor, the perfect complement to the season's crisp air and falling leaves.
Lunch or Dinner: Chickpea and Vegetable Curry
Vegetable curries are so simple to make, and the best part is you can swap any veggies out for what you have on hand. For example, this recipe calls for sweet potatoes, but you could easily swap in delicata squash if that's what you picked up at the market — or you could sub broccoli in for cauliflower.
Side Dish: Oven-Roasted Root Vegetables
Vibrant, healthy, full of autumn color. Roasted veggies make great freezer side-dishes to have on hand for any meal. The inclusion of fresh, aromatic herbs in this recipe really dials the flavor up.
How to Label Freezer Meals for Seniors
Write clear and comprehensive labels
Labels should be clear, legible, and comprehensive. Include the name of the meal, date of preparation, and any relevant dietary information (e.g., diabetic-friendly, low-sodium).
List Ingredients and dietary notes
List each ingredient on the label, especially if the meal contains allergens or potential dietary restrictions. This helps both you and your senior loved one not only remember what you cooked but also identify whether the meal aligns with their current dietary needs. This applies if they live alone, because even their own nutritional needs may fluctuate based on current health or medication.
Include a best-before date
Specify a "best-before" date on the label. Freezer meals can be stored for several months, but this date helps ensure seniors consume the meals while they are at their peak quality.
Write out reheating instructions
If the meal requires reheating, label with concise instructions. Include details on the recommended reheating method (e.g., microwave, oven) and the time and temperature required.
Choose an organizational method
Consider grouping freezer meals using a simple method that everyone agrees to. For example, according to type (e.g., soups, casseroles) or by date of preparation. This can help with ease of access and to make sure older meals get used first, which reduces food waste.
Next Steps
As the season of coziness settles in, we find ourselves yearning for cashmere sweaters, crackling fires, and, of course, comforting meals.
Fall brings with it a bounty of fresh, local produce we want our senior loved ones to be able to enjoy.
But when time is in short supply, it can be hard to make every meal from scratch.
In this article, we covered the art of nourishing your loved ones with seasonal produce — all the way from the farmers market to the freezer.
Could you use more tailored guidance for helping figure out the right nutrition for mom, dad, or another senior loved one in your care?
Simply call us at 855-461-2552 or send us a message, anytime. We're always here to support you.