Pricing
COMPREHENSIVE. CONSOLIDATED. AFFORDABLE.
Benton House offers a comprehensive and consolidated approach to care by combining comfortable accommodations with valuable services to meet most every need. And we do so at a surprisingly affordable rate compared to traditional skilled care or expensive private duty sitters.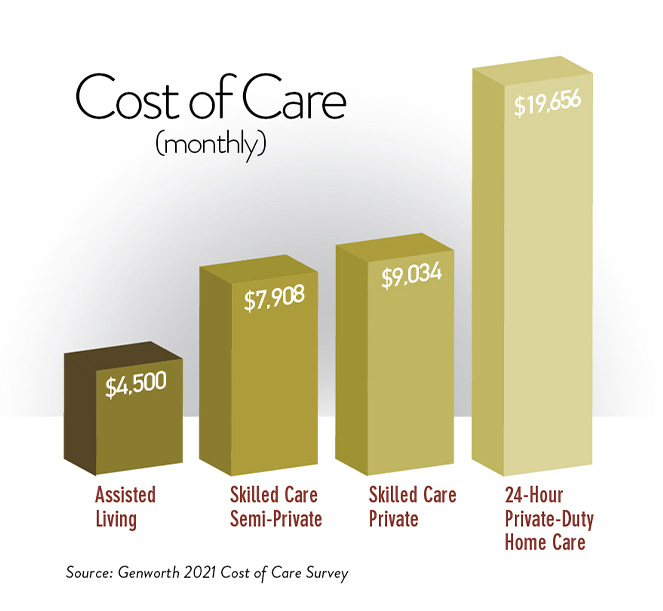 Options & Worksheets
Benton House pricing varies depending on your choice of apartment style. However, every apartment option includes meals, housekeeping, utilities, emergency response, 24-7 access to staff and regular social events. And to keep things simple Benton House offers just two comprehensive levels of care services so residents and families can plan and budget accordingly. Call today to learn more about current pricing and availability.
Evaluate Your Current Plan — Many families are surprised to discover how much is currently being spent in the care of a loved one with their current plan. Use this questionnaire to see how your current costs compare to Benton House.
Medicare & Medicaid
Do You Qualify?
Many people mistakenly assume all senior housing is paid for by Medicare or Medicaid. In fact, both programs have strict qualifications. Be sure you understand your eligibility and specific needs as you consider options.
How Residents Pay for Services
In addition to private funds Residents use a variety of support options to help pay for services.
VA Aid and Attendance
If you are a United States veteran or the surviving spouse of a veteran, you may qualify for the Aid and Attendance Program and receive monthly benefits to help cover the cost of care. Call us today and we will assist you in finding the appropriate VA representative to see if this program will benefit you.
Companion Living
This is an affordable option for individuals looking for cost savings while still enjoying all the services and amenities that we offer. Companion Living can also smooth the transition to our community by providing an opportunity to build a close friendship.
Long Term Care Insurance
If you have a long-term care policy,  it may offer benefits to pay for our services. Our community will work with you to provide the necessary paperwork to submit to the insurance company for approval.
Tax Deductibility
The Internal Revenue Service provides a deduction for medical expenses including the cost of care in a nursing home, personal care home or assisted living community if the primary reason for being there is to receive medical care. We encourage you to consult your tax adviser for a more detailed description of eligibility requirements.
Let Us Help
Understanding your financial options is an important part of this choice. Regardless of whether you choose Benton House we stand ready to help you navigate your financial options, including available financial support. Reach out today to let us help.