Help manage mom's finances…
Make sure she (consistently) takes her medicine…
Run to the grocery store to stock up on nutritious food she'll actually eat…
Sound familiar?
If you're taking care of elderly parents at home, there's likely nothing you wouldn't do for them. But no matter how long the to-do list, we each still get only 24 hours in a day — and at least a third of that should be spent sleeping!
So how do you keep all those plates spinning, while keeping yourself sane?
You're Not Alone
Today, about 1 in 6 Americans are caregivers for a friend or family member 50 years or older. [1]
That's 41.8 million adults who provide unpaid care for family, friends, and neighbors who need help because of health or functional needs.
Which means you're not alone. But it can often feel that way.
At Benton House we understand the patience and devotion being a caregiver of a senior asks of you. We're launching this blog to be a resource you can count on. A place you can come time and again for friendly support and expert guidance for taking care of elderly parents at home.
For our inaugural blog, we're zeroing in on our top three most important tips for caregivers. We've honed these over the more than two decades we've spent growing alongside our incredible community of seniors.
You may be surprised to discover that none of our top tips include things like medication specifics, how to senior-proof your bathroom, or how much physical exercise is recommended for seniors.
While the above are all important pieces of the puzzle, we've found that prioritizing the three tips below is the basis to a successful caregiving relationship that leaves you both as healthy and happy as possible.
Let's dive in.
Tip #1 — Set Expectations
Set realistic expectations for you and your loved one. How much support can you provide, and what does it look like in reality?
Wondering where to start? First, get clear with yourself. How much can you reasonably commit to taking on? It's impossible to develop clear expectations with others if you're not sure what they are yet yourself.
It's helpful, too, to consider why each expectation matters to you. Why do you need Thursday evenings to yourself? Why is it best to delegate grocery shopping to another family member? Knowing the why behind expectations can help both parties honor and respect boundaries.
Last, writing out expectations can be enormously helpful. From weekly calendars to last-minute medication pickup to when to hire a nurse, having at least a rough idea of day-to-day expectations helps keep life running as smoothly as possible for you and your loved one.
Tip #2 — Take Time for You
The biggest demand when it comes to caregiving? Time.
And take it from us — as our loved ones age, the time required to care well for them only increases.
Which is why it's important to start as you mean to go on. Take time for you and other members of your family. Failure to do so can result in feelings of resentment from all sides.
It can be tough to remember — or even feel like you have permission — to enjoy a movie with friends, go for a stress-soothing walk, or sit down for a relaxing meal yourself.
But in order to show up as your best self for your loved one, it's vital to carve out that time.
Consider this your permission slip. Taking time for you and your other family and friends is an essential part of being a caregiver.
Tip #3 — Seek Help
If you take just one thing with you from reading this blog, take this: You don't have to be in this alone. Ask for help!
There are wonderful resources available to provide assistance in a number of areas. Your doctor, pastor, social workers at hospitals and rehabilitation centers, even professionals like geriatric care managers can offer resources.
And of course, like this blog, the team at Benton House is ready to assist with all your caregiving questions.
Have specific questions? Give us a call or send us a message any time. We'd love to connect you with specific help available in your area.
How Much Time Are You Spending?
If you're unsure how much time you're spending on caregiving, consider rolling through this Caregiver Time and Focus tool to get a clear sense of your current baseline. Then, try re-assessing with our top three tips to create a schedule that works as smoothly as possible for your loved one and you.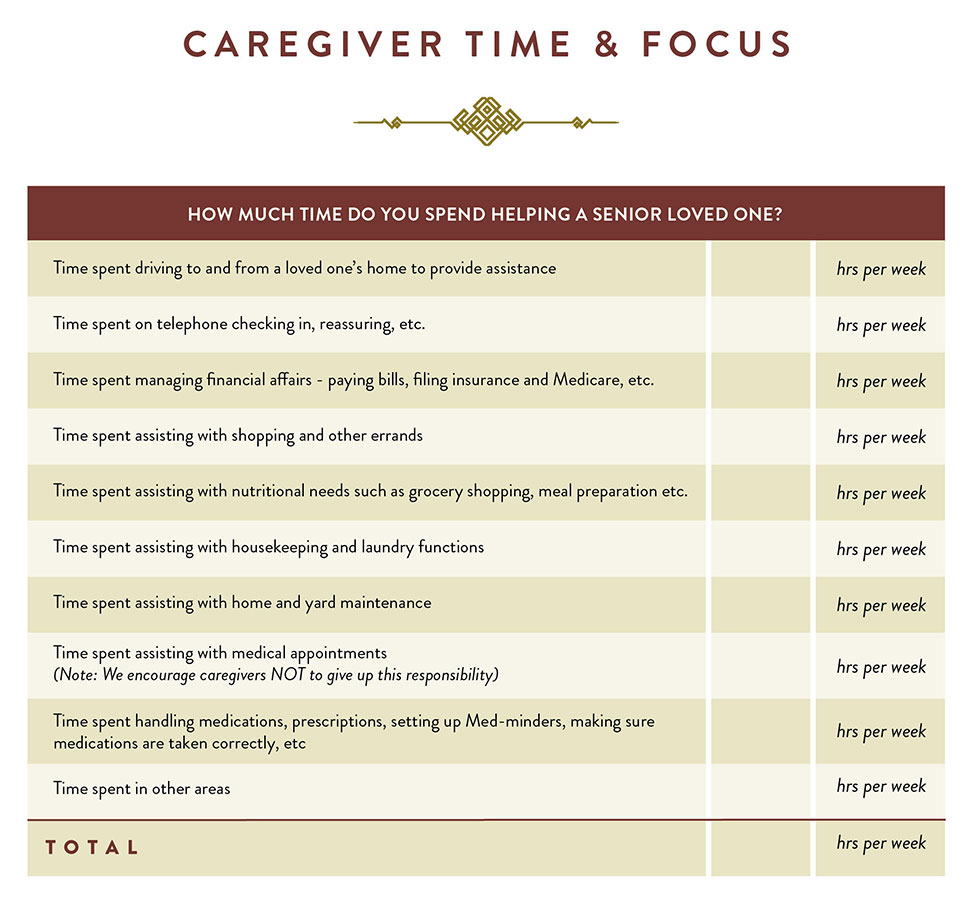 Remember Your Own Needs When Taking Care of Elderly Parents
Notice a trend? Our best (hardwon) advice for you as a caregiver centers around making sure you're taking care of yourself, first.
Because at the end of the day, staying healthy yourself is the best way to ensure you can keep showing up for your loved ones.
Next Steps:
Need more tailored advice or have a specific worry? Let us help. Call or send us a message to get your caregiving at home questions answered!
[1] Full report on caregiving in the United States – AARP.org